Service
Good after-sales service and reliable customer support are a key part of our business. Our Customer Service Team is here to help, so please get in touch if you have any queries.
Consulting
Not all beer mats are made the same!
We have spent the past 100 years advising customers on how to choose the right beer mat to meet their needs. Experience has taught us that coasters are important marketing tools that need to be carefully tailored to each customer's brand. We take time to address all your concerns, and we have the expertise to put your ideas into practice. From the choice of board and thickness to the coaster shape and finishing, we've got you covered!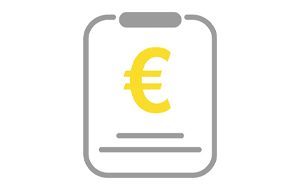 Pricing
Every beer mat design is unique in its own right.
The price of a coaster depends on many different factors.
That's why we always give our customers a quote that is based on their specific needs.
Logistics
You can find KATZ beer mats all over the world.
Wherever you are, you can benefit from our experience and expertise as a global market leader.
Day after day, we supply our coasters to customers across the globe. So if you're wondering how to get hold of KATZ products, just get in touch and we'll find the way that suits you best.
Minimum orders
Our standard formats (107 mm round beer mats / 93 x 93 mm square beer mats) are available through our personalised print service in a minimum quantity of 2,500 pieces. Our minimum order requirements may vary for special designs and will be calculated on the basis of the specific format you have chosen.
Data processing
We offer everything under one roof, from design right through to the finished beer mat.
Do you need to start by creating some print data?
Our in-house graphics department can work with you to create your coaster design in line with our artwork guidelines.
Or do you already have your own print data?
Our in-house prepress team will check all the design elements and prepare them for printing. Rest assured that you will always have the final word in the creative process. You can give us your final approval and go-ahead for your beer mat design in a variety of different ways:
PDF soft copy proof
Hard copy proof with calibrated printing system on the original board
Offset proof